** If you require assistance in choosing which size would best fit please contact us and we are happy to help. 

(Available within 4-5 days after ordering)
Memory compression stockings are a stylish and elegant addition to the fashion-conscious woman. With a delicate transparency and a light gloss, they are ideal for those with varicose veins and other vein problems. Memory compression stockings are available in standard sizes but can be custom-made and made-to-measure. These circular-knitted compression stockings have also been given a Red Dot Award for exceptional product design.
Tastefully seductive
The soft shades of Marzipan, Honey and Caramel are ideal for women with lighter skin tones. These natural colors discreetly put your legs in the forefront with their gentle transparency.
The crisp colors of Praline, Nougat and Chocolate are easy on the eye and give your legs an irresistible charm.
The dark shades in the Memory range of colors (Blueberry, Poppy and Licorice) can be worn by anybody and make your legs appear magical.
The Memory color of Cream is perfect for those who suffer from allergies: These stockings contain no additional colorants and are therefore best suited for those with sensitive skin, and also for brides to be!
Optimal Fit
Each measurement in the Memory sizing system – from the tip of the toes to the waist – is the result of detailed research. It is therefore oriented around statistical data regarding real human body sizes. In this way, we guarantee both an optimal fit and highly effective compression.
From the product range to individual measurements
Another aim of the Memory sizing system is to care for as many women as possible with our compression stockings. As a result, you don't have to wait long for compression stockings and you can enjoy Memory stockings as quickly and directly as possible.
If our sizing system does not cater to your specific measurements, getting your stockings made to measure is the ideal solution. They can be adjusted to your individual body shape and therefore fit you perfectly to ensure maximum comfort.
Advantages of the Memory sizing system

5 up-to-date sizes
2 foot lengths with compact tips
2 leg lengths
2 topband widths
2 cotton flap widths
Indvidualised and made to measure
Custom fit
Asymmetrical soft tips available
Indvidualised and made to measure for every type of leg
Different designs available
Free choice of topband
Thigh-Length Stockings (AG)
The Memory Thigh-Length stockings shine with a slight transparency. The knitted fabric fits to the leg in an optimal fashion; the stocking fits perfectly without restriction – even when bending the knees.
The Memory Foot Tips
The open tips in Memory products are a soft and comfortable conclusion to the compression they provide, and offer space for the toes and a secure fit for the stockings. The closed soft tips do not restrict the toes, as the material has been selected in such a way that it is comfortable, smooth and also strong.
Red Dot Design Award 2012
Memory proves that medical efficacy and a pleasant appearance can go hand in hand. In 2012, these elegant compression stockings were given a Red Dot Design Award for their fashionable design and refined details.
The tasteful colors, the lovingly designed details, and the elegant appearance of the Memory product range were able to win over a jury of high-class professionals.
Memory also ensured an all-round successful performance with its exquisite packaging and stylish appearance of its color brochure and folder of color samples.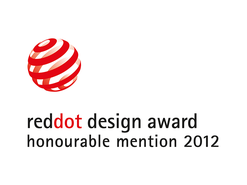 Compression – The Basis for Treatment
Compression treatment is the foundation of every kind of treatment for vein conditions and is also the basis for preventative measures. For healthy legs, this means early support in relief, recovery and care.
In the case of a vein disorder, a vein can expand and not return to normal. This is known as varicose veins and requires long term support through compression. Even after surgery for sclerosis or varicose veins, compression stockings are used to ensure the success of the treatment.
Pressure decreases from the bottom up
Compression stockings exert precisely defined mechanical and external pressure on the enlarged venous vessels and also on the leg. They compress the veins, therefore narrowing the vein diameter, allowing the venous valves to close up again. The blood in the veins can now flow better and faster once more.
Medical compression stockings guarantee correct levels of pressure ​​and a medically dispensed drop in pressure. The pressure of the compression stocking is at its strongest around the ankle and decreases as the stockings move upwards. This speeds up blood flow back to the heart and noticeably improves the blood circulation in the leg.